The industry's most comprehensive lineup of organic and inorganic resin systems to accommodate any casting application and meet all your foundry needs.
HAI's Cold Box resins are the best in the business when it comes to high core strengths, long mixed sand bench life, humidity resistance, and release characteristics.
Reducing Shrinkage in Aluminum Castings With Resin Selection
Simple Solutions That Work! Fall 2019
No Bake Systems
HAI's No Bake systems encompass diverse chemistries to offer high performance and environmental advantages to jobbing foundries.
Phenolic Urethane No-Bake
Alphaset's unique water soluble phenolic chemistry can be used with all types of sand and provides foundries with high quality castings, less cleaning room costs, and increased profits.
HA-International's newest resin, Enviroset 3D Jet Resin, is a low-viscosity thermosetting furan resin that has been specially manufactured for use in all 3D Printers for sand cores and molds and is suitable for use with all types of metal.
This furan resin offers a number of features and benefits that set it apart from conventional furan resins on the market:
Features:
Contains no nitrogen
Low water
Non-reportable formaldehyde and phenol
Low viscosity
High tensile strength
Benefits:
Increased productivity – resin helps print heads last longer
Reduced labor – cores are cleaned faster
Reduced costs – resin is less expensive
Our wide product selection allows you to select the right product to meet your specific application. No matter what your particular goal is, we are certain that one of our acid-cure No-Bake resin systems will get the job done.
HAI's acid cure resins range from high FA content, low water, and zero nitrogen to Furan-modified resins that offer the lowest cost while maintaining the expected performance in the mold-making process without compromising casting quality.
Aikure, along with Enviroset and Super Set resins, provides a diverse selection of products for various casting types. With nearly every combination of furfuryl alcohol, water, urea, and plasticizer chemistry, HAI can accommodate any casting application.
Enviroset 138 is an alternative to Furan Based resins that has sufficient hot strengths and tensiles but with a lower cost compared to Furan resins.
HAI's Enviroset 138 is used in conjunction with the same catalysts used with our Furan line of products.
This resin also exemplifies some of the fastest curing speeds for a Furan-free, resole-based resin, allowing for a great alternative for current Furan foundries.
Learn More
HA-International provides the industry's most comprehensive lineup of Phenolic Urethane No Bake (PUNB),
Furan No Bake (FNB) and Phenolic No Bake (PNB) Acid Cure Resin Systems.
Warm Box Systems & Shell Resins
Foundries interested in increased productivity appreciate the diversity of performance capabilities offered by
HAI's
Warm Box

and Shell Resins.
HAI's leading Warm Box Resin, Envirotherm, is designed for use in a broad variety of casting applications. It is a high-tensile strength resin that provides improved core quality, reduced cycle times and lower cure temperatures.
HAI produces the most complete line of liquid and solid phenolic shell resins in the foundry industry, including our leading Shell Resin, Plastiflake.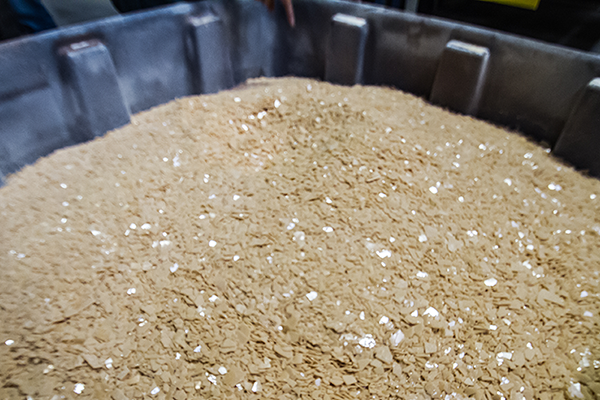 Contact us
today and let one of our experienced employees help you find the right resin to meet your foundry needs.
Composite IBC (Tote) Recycling
HA-International encourages our customers to recycle their used totes through the reconditioning program of their choosing. Reconditioning reduces environmental impacts and costs associated with use of resin packaging. And it's free in most areas, provided you meet reclamation company acceptance criteria.
Reconditioning vendors active in North America include:
Schuetz Ticket Service: www.schuetz.net/ticket or (888)724-8389
Mauser Packaging Solutions: www.mauserpackaging.com/Return-Containers-Form, email at pickup-NA@mauserpackaging.com, or phone (800)774-6956
Resin Tote Fittings
All Foundry Resin totes utilize a Cam-Lock fitting system for Part 1 and Part 2 totes.
All Part 1 resins are 2" fittings, totes have white corners.

All Part 2 resins are 1.5" fittings, totes have red corners.

All Techniset Activators and ALpHACURE hardeners are 1.5" fittings.
Please view our Resin Tote Fittings Overview on how to properly connect these fittings.
EcoMission Products
HA-International supports sustainability by minimizing foundry environmental impact of our products while continually improving their performance and value. All of our environmentally friendly Resin products are marked with a leaf.
Learn more about our other environmentally friendly product lines and how HAI is Leading the Mission to Environmental Sustainability.


---