Wedron Flux
Metal Processing Solutions For Every Application
Molten Metal Processing
HA-International's Wedron Flux Processing System provides the aluminum casting industry with a complete line of functional systems designed to produce a cleaner, stronger casting – faster. Our products and technical services are also environmentally friendly for molten metal processing. The Wedron Flux Processing System includes fluxes, including eco-grades, fully automatic lance & rotary injection machines, and rotary degassers. Our flexible system can be tailored to your individual production needs.

What's New...
New drossing, clearing, and degassing fluxes for copper-based alloys. Eco grades reduce porosity by removing dissolved gasses in your copper-based alloys. Simple plunge applications are very effective in reducing your scrap rate.

Our new Zinc flux can be used on emersion tube melting and holding furnaces without corrosion concerns.

HA-International has the only non-reactive commercial grade LEAD flux. Reduce the metallic content of your dross. Weight reduction saves not just alloy but is also an ergonomic saving. A reduction of up to 40% in weight will reduce operator injuries.

Our Rotaflux and Injection systems have been upgraded and now have the ability to harvest data. Now you can find out what happened on the third shift two weeks ago. Our systems record all functions or each cleaning and degassing cycle:
Retained Data Options

Operator Identification

Ladle or Furnace Identification

Time and Date

Gas Flow Rates

Flux Addition

Rotor Speed

Rotor Amp Draw Indicates Performance

Cycle Times, Injection & Purge
Pure and Simple
The old adage "Garbage In Equals Garbage Out" applies to molten metal processing. That's why it's so important to start your casting process with clean, oxide, and hydrogen-free, molten aluminum.

With Wedron Flux in your metal preparation process, you can produce cleaner degassed alloys, reduce the overall metal content of your dross, and keep your furnaces running clean and efficient. One pound of flux can retain/recover 10-15 lbs. of molten aluminum, keeping it in your furnace, not in the dross pan.

The end result is a cleaner, stronger casting alloy.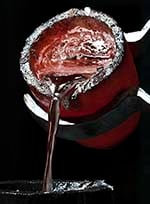 Products & Equipment
For more information, view our Product Brochure of manual and injection-grade fluxes, equipment, graphite shafts, and rotors.