Resin Coated Sands
Innovative Shell Resin and Resin Coated Sand Products
Custom Coat Resin Coated Sand
HA-International customizes each and every resin coated sand formulation so you can optimize your operation's unique capabilities.
Shell Process
The Shell Process is better than ever today as it remains the world's predominant core-making process. HA-International is proud of its leadership position in the development of innovative shell resin and resin coated sand products.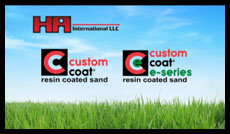 Advantages of the Shell Process
In today's environmentally conscious world, the Shell Process provides workers with numerous operating advantages:
Shell Process products contain low or no formaldehyde.

Shell Process molds and cores remain usable indefinitely and are unaffected by high humidity storage.

Shell cores can be made hollow, resulting in significantly lighter weight and lower-cost cores.

Hollow cores and lightweight shell molds burn more completely and yield waste sands that contain less organics.

High-strength cores and molds yield castings with precise dimensional tolerances.
Evolution of Foundry Shell Sand for Today's Foundry
Simple Solutions That Work - (Issue 9, September 2018)
The Shell Sand process, or the "Croning" process, was invented by Dr. Johannes Croning in Hamburg, Germany, in 1944. This process is the oldest core and mold-making technology that utilizes synthetic resins. Although many additional sand core and molding-making technologies have since been introduced, the Shell Sand process is still a very effective core and molding process today.
Safe Handling of Super Sacks
At HAI, we are committed to providing information to our customers regarding the safe and environmentally responsible use and handling of our products and containers.
Please view the FIBC safe handling guide and our new velcro release super sack instructions for our Super Sack flexible bulk containers.
Shell Process History
The Shell Process, also known as the Croning Process, was developed by Johannes Croning in 1944 in Hamburg, Germany. For more information, read about the history of Johannes Croning and his impact on the American Foundry Industry.