Cold Box
High Productivity - Large Volume - High Speed Production
Cold Box Process
HAI offers a comprehensive portfolio of cold box technologies suited to fulfill the most demanding requirements in the industry.
Our product portfolio includes:
Phenolic Urethane Cold Box Systems (PUCB) - The PUCB process utilizes an amine gas to catalyze the reaction between a phenolic resin and an isocyanate resin to produce a urethane bond. HAI's PUCB resins are the best in the business when it comes to high core strengths, long mixed sand bench life, humidity resistance, and release characteristics that can't be matched.
Phenolic Esters Cold Box Systems (ECP) - Ester-cured phenolic cold box process uses two components; a resin and a curing agent. The resin (Betaset) is an alkaline phenolic resole in water, and the curing agent is the vapor of a volatile ester, methyl formate. The Betaset resin offers higher strength development and excellent dimensional stability, both highly desirable traits in making high-valued castings.
Carbophen systems - Carbophen is a water-soluble phenolic resin system cured by passing carbon dioxide (CO2) gas into a sealed core box. The resin is the sole binder component added to the sand for making molds and cores. Carbophen has been formulated to contain no reportable formaldehyde making this system more environmentally friendly.
Advantages of Cold Box
No tooling heat required

Cures at room temperature

Cost-effective to run in comparison to heat-cured systems

Low labor and energy cost

Good dimensional accuracy

Cores can be handled immediately

Cores can be cast almost immediately

Long resin shelf life



New Names - Proven Products
New brand names make it easier to identify and select products.

Learn More
The same breakthrough chemistry which produced the Alphaset No Bake system, was subsequently developed to produce the Betaset Cold Box system.
The Betaset system uses vaporized methyl formate gas to achieve a fast Cold Box cure and can be applied to a highly automated environment, such as automotive component production.
The Betaset system offers improved casting quality and environmental factors.
Carbophen
HAI's newest Phenolic Cold Box resin, Carbophen, is a water based phenolic resin system cured using CO2 gas.
This environmentally friendly cold box product line contains no reportable formaldehyde and offers the lowest VOC and HAP emissions at pouring, cooling, and shakeout of cold box systems. Features include:
Low odor inside and outside of the foundry

No scrubber is required

Resin contains no nitrogen, sulfur or phosphorous

No lustrous carbon is formed

Good humidity resistance and Tensile Strength

No odor, non-flammable curing agent
Amine Catalysts
The PUCB process utilizes an amine gas to catalyze the reaction between a phenolic resin and an isocyanate resin to produce a urethane bond. HAI's amine catalyst product line, Sigmacat, is designed for use with our entire line of phenolic urethane cold box resins.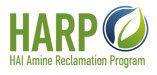 HA-International also offers our customers an environmentally conscientious alternative to PUCB scrubber solution waste disposal. With HARP, amine is recovered to virgin specifications using the latest innovations in process technology
Technical Assistance
Proper selection of a binder system that meets your specific needs is key to achieving maximum performance benefits. HAI provides in-depth technical assistance and a wide range of cold box binder systems. Both our in-house and field experts are available to assist you in your most challenging foundry applications. Contact us today so that we may assist you in putting together a binder system that will help you achieve your goals.


---

For additional product information, contact Aaron Kaboff at Aaron.kaboff@ha-group.com.