HA INTERNATIONAL ANNOUNCES GORDON MCNEILAGE AS NEW CEO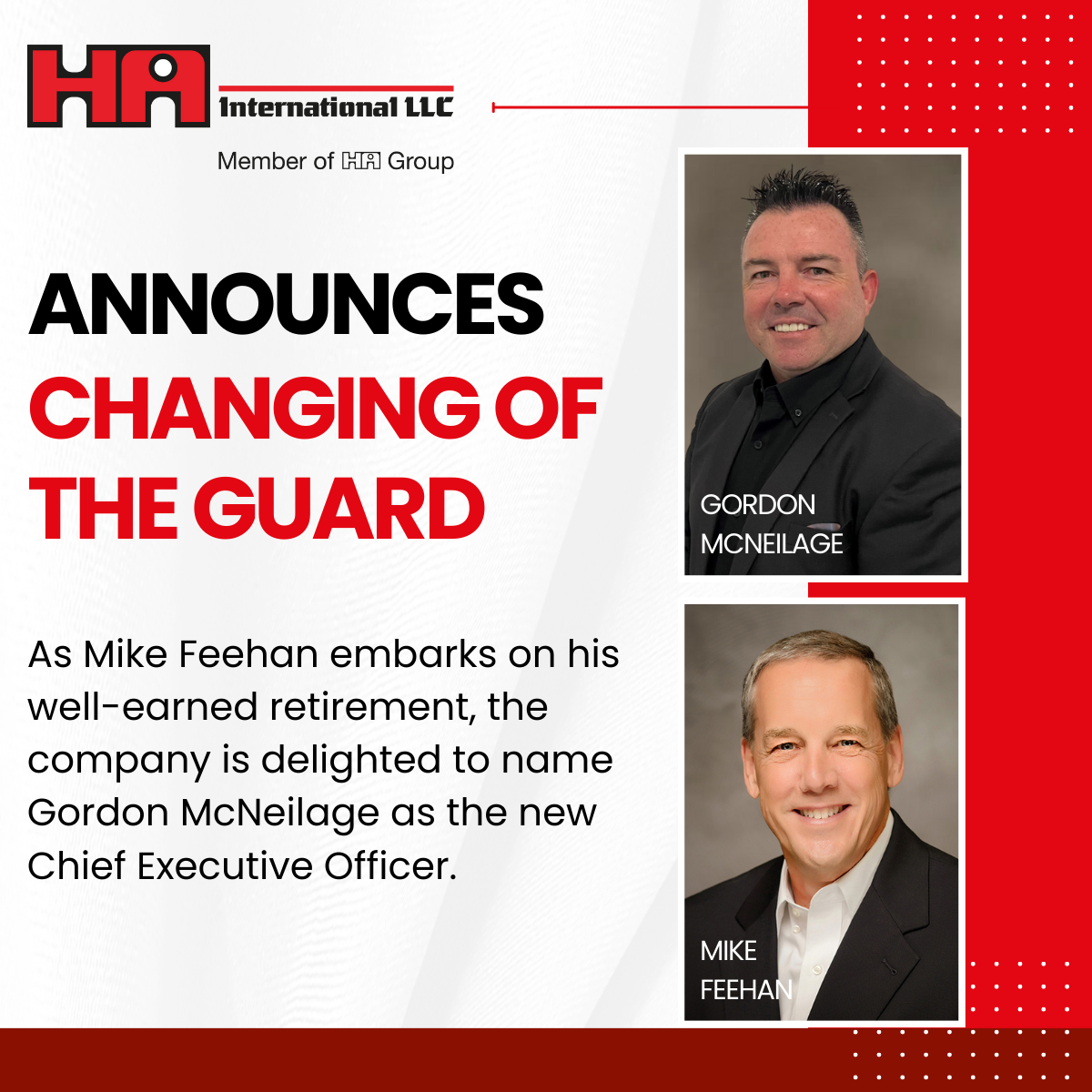 Westmont, Illinois – HA International is excited to appoint Gordon McNeilage to the position of CEO, effective January 1st, 2024. Gordon succeeds Mike Feehan, who had this to say: "Gordon joined HAI in 2023 and has led the commercial team as VP of Sales and Marketing. He comes to HAI with vast experience in the foundry industry and as an experienced professional executive, which makes him well-suited for the position. He has developed company cultures in his career that perfectly align with the HAI culture."
Gordon has over 25 years in the industry and has run operations in South Africa, China, and the USA. He was recently the Senior Business Director at SI Group after completing roles of increasing responsibility in his 18 years with the company. Gordon began his career in the Foundry industry after completing his Metallurgical Engineering degree from the University of Witwatersrand, South Africa. He has moved through roles in Sales, Operations, Marketing, andExecutive Management.
"I am honored and excited to rejoin the HA Family and feel truly humbled to be given the opportunity as CEO to lead HAI into the future and continue the great work by Mike," said Gordon. "Setting HAI on a growth path while fostering an amazing culture where all HAI employees can be successful both in a professional and personal capacity."
The HA Group Presidents, Christoph Koch, and Franz Butz, expressed their "highest gratitude for Mike's achievements and best wishes for Gordon." Mike has been the President/CEO for the last six years and with the company for over 32 years.
CastTherm® Korplete Engineered Additives
An HAI Total Solution for mold and core making applications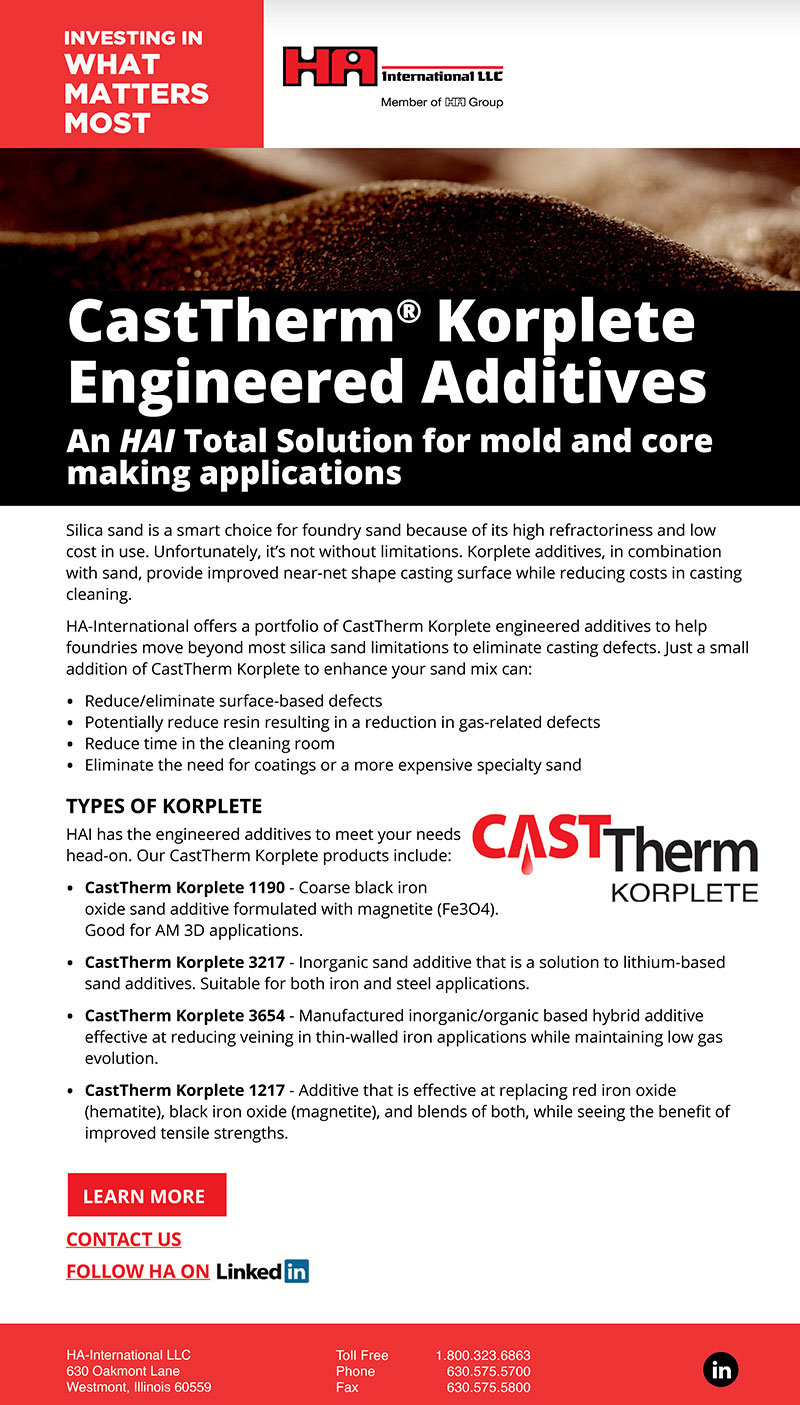 Silica sand is a smart choice for foundry sand because of its high refractoriness and low cost in use. Unfortunately, it's not without limitations. Korplete additives, in combination with sand, provide improved near-net shape casting surface while reducing costs in casting cleaning.
HA-International offers a portfolio of CastTherm Korplete engineered additives to help foundries move beyond most silica sand limitations to eliminate casting defects. Just a small addition of CastTherm Korplete to enhance your sand mix can:
Reduce/eliminate surface-based defects
Potentially reduce resin resulting in a reduction in gas-related defects
Reduce time in the cleaning room
Eliminate the need for coatings or a more expensive specialty sand
TYPES OF KORPLETE
HAI has the engineered additives to meet your needs head-on. Our CastTherm Korplete products include:
CastTherm Korplete 1190

- Coarse black iron oxide sand additive formulated with magnetite (Fe3O4). Good for AM 3D applications.
CastTherm Korplete 3217

- Inorganic sand additive that is a solution to lithium-based sand additives. Suitable for both iron and steel applications.
CastTherm Korplete 3654

- Manufactured inorganic/organic based hybrid additive effective at reducing veining in thin-walled iron applications while maintaining low gas evolution.
CastTherm Korplete 1217

- Additive that is effective at replacing red iron oxide (hematite), black iron oxide (magnetite), and blends of both, while seeing the benefit of improved tensile strengths.
HA-International Delivers Solutions For Zircon Free Refractory Coatings for Serious Demands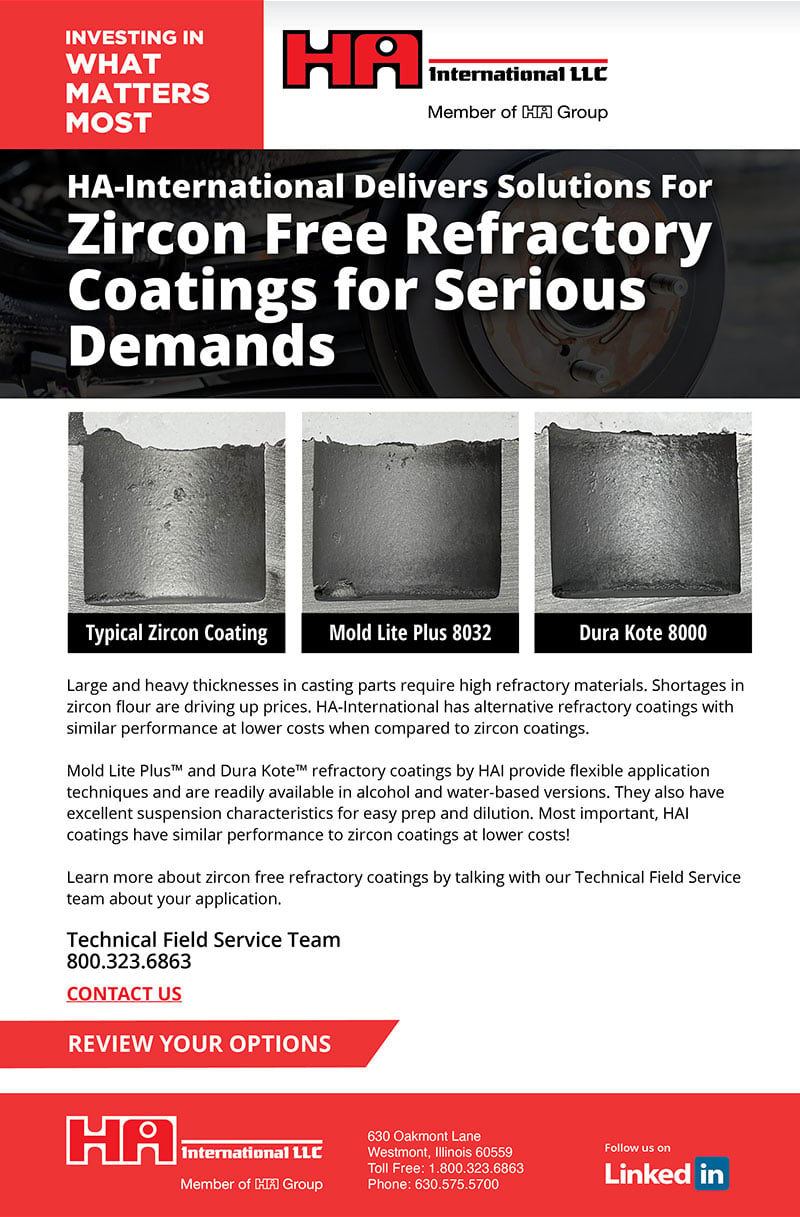 Large and heavy thicknesses in casting parts require high refractory materials. Shortages in zircon flour are driving up prices. HA-International has alternative refractory coatings with similar performance at lower costs when compared to zircon coatings.
Mold Lite Plusâ"¢ and Dura Koteâ"¢ refractory coatings by HAI provide flexible application techniques and are readily available in alcohol and water-based versions. They also have excellent suspension characteristics for easy prep and dilution. Most important, HAI coatings have similar performance to zircon coatings at lower costs!
Learn more about zircon free refractory coatings by talking with our Technical Field Service team about your application.
Technical Field Service Team
800.323.6863
Aluminum Fluxes 101 - Basics of Furnace Cleaning, Dross Handling and Wall Cleaning
Casting defects, energy usage, metal recovery, ergonomics, and labor are cost variables addressed by properly identifying and applying fluxes for the aluminum casting operation. Proper selection and application are especially important to realize the benefits that flux can provide.
Defects stemming from the use of dirty metal are plentiful. Metallic aluminum is very reactive with atmospheric oxygen, and a thin passivation layer of aluminum oxide (4 nm thickness) forms on any exposed aluminum surface in a matter of hundreds of picoseconds to form aluminum oxide (Al2O3). Hydrogen forms whenever molten aluminum meets water vapor, and easily dissolves into the melt. The gas tends to come out of the solution and forms bubbles when the melt solidifies. The detrimental effects arising from the presence of an excess of dissolved hydrogen in aluminum are numerous. Aluminum oxide and hydrogen gas H2 are the two most common defects found in aluminum castings. Magnesium formation is also common in aluminum melting due to reaction with the alloy or with the refractory which typically contains magnesium and oxidizes rapidly forming magnesium aluminate (spinel), which visually forms black speck inclusions in the metal surface. Aluminum fluxes will address all three potential inclusions from the process of melting to final molten metal preparation. This article will cover two of the seven fluxes listed below*, drossing and wall cleaning fluxes, and some of the key savings.
HA-International Awarded EcoVadis Silver Medal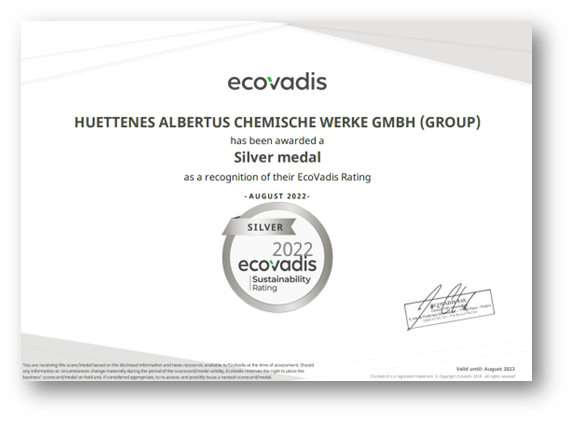 The result of the renewed evaluation of HA GmbH (group level) by EcoVadis is available. Once again, HA was awarded a silver medal by EcoVadis in recognition of its sustainability performance. This places HA GmbH (group level) among the top 16% of companies assessed by EcoVadis in the corresponding industry risk profile with its key sustainability topics.
Introducing Bioset opTa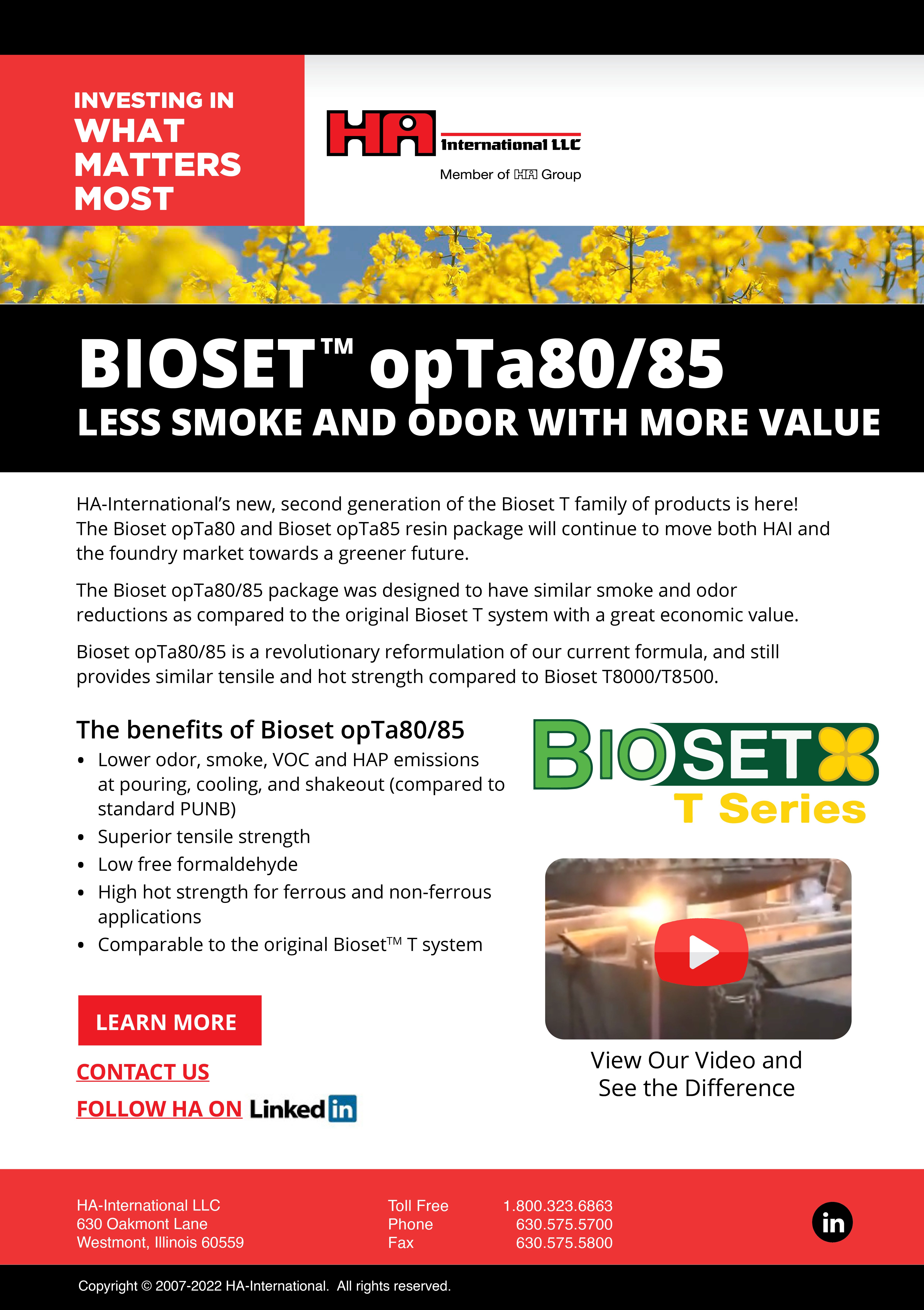 HA-International's new, second generation of the Bioset T family of products is here! The Bioset opTa80 and Bioset opTa85 resin package will continue to move both HAI and the foundry market towards a greener future.
The Bioset opTa80/85 package was designed to have similar smoke and odor reductions as compared to the original Bioset T system with a great economic value.
Bioset opTa80/85 is a revolutionary reformulation of our current formula, and still provides similar tensile and hot strength compared to Bioset T8000/T8500.
The benefits of Bioset opTa80/85
Lower odor, smoke, VOC and HAP emissions at pouring, cooling, and shakeout (compared to standard PUNB)
Superior tensile strength
Low free formaldehyde
High hot strength for ferrous and non-ferrous applications
Comparable to the original BiosetTM T system
Thank you for stopping by our booth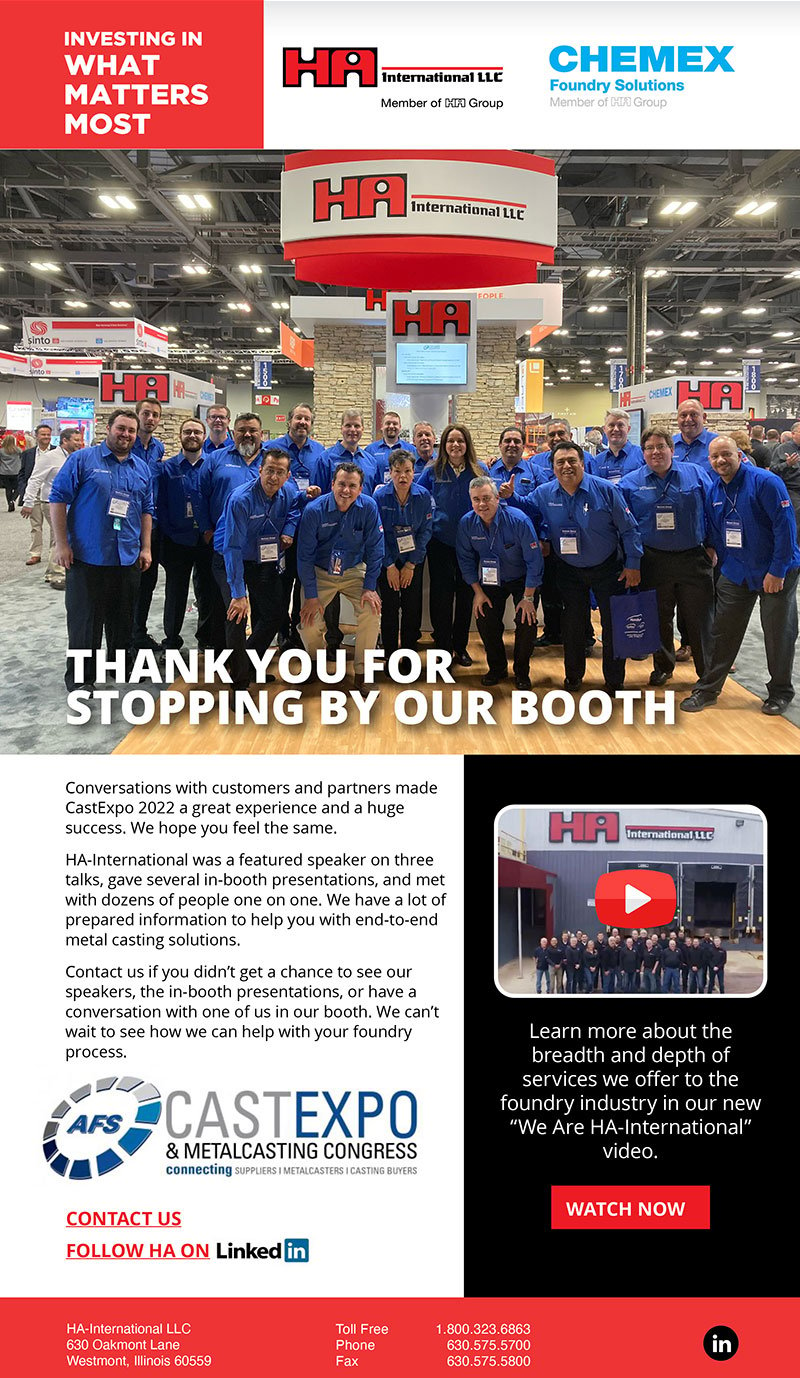 Conversations with customers and partners made CastExpo 2022 a great experience and a huge success. We hope you feel the same.
HA-International was a featured speaker on three talks, gave several in-booth presentations, and met with dozens of people one on one. We have a lot of prepared information and solutions to help you with end-to-end metal casting solutions.
Contact us if you didn't get a chance to see our speakers, the in-booth presentations, or have a conversation with one of us in our booth. We can't wait to see how we can help with your foundry process.
Honored By Ecovadis for our environmental efforts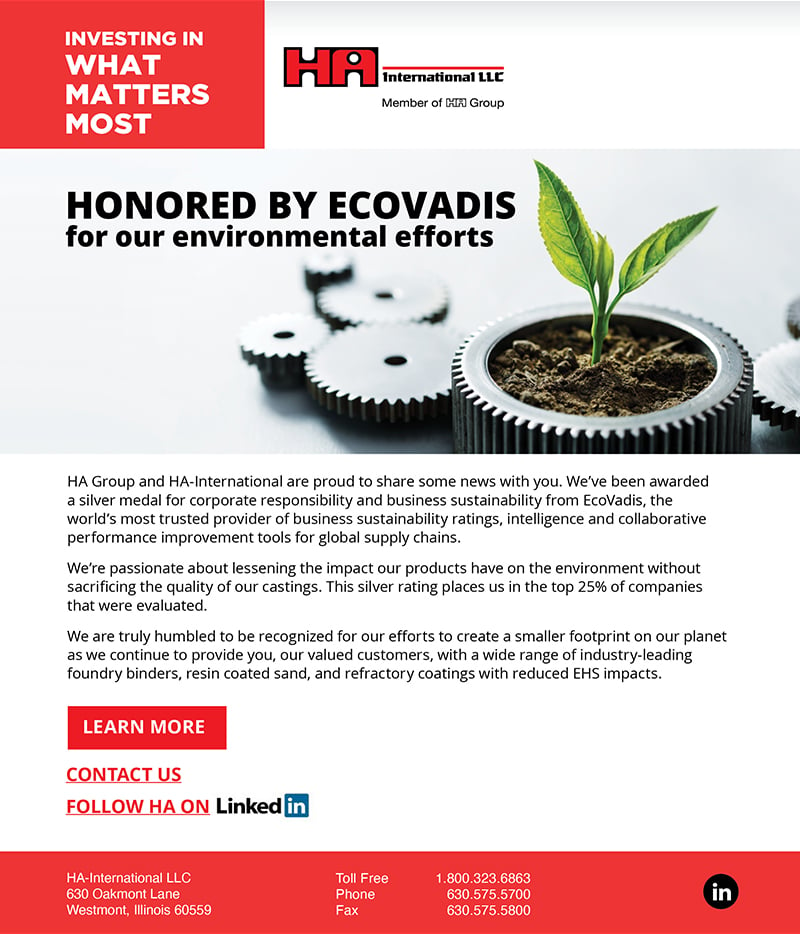 HA Group and HA-International are proud to share some news with you. We've been awarded a silver medal for corporate responsibility and business sustainability from EcoVadis, the world's most trusted provider of business sustainability ratings, intelligence and collaborative performance improvement tools for global supply chains.
We're passionate about lessening the impact our products have on the environment without sacrificing the quality of our castings. This silver rating places us in the top 25% of companies that were evaluated.
We are truly humbled to be recognized for our efforts to create a smaller footprint on our planet as we continue to provide you, our valued customers, with a wide range of industry-leading foundry binders, resin coated sand, and refractory coatings with reduced EHS impacts.
Next-Generation Chromite Sand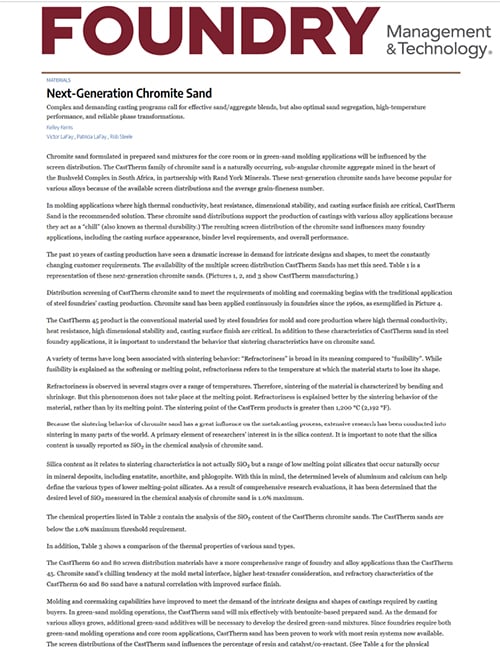 Chromite sand formulated in prepared sand mixtures for the core room or in green-sand molding applications will be influenced by the screen distribution. The CastTherm family of chromite sand is a naturally occurring, sub-angular chromite aggregate mined in the heart of the Bushveld Complex in South Africa, in partnership with Rand York Minerals. These next-generation chromite sands have become popular for various alloys because of the available screen distributions and the average grain-fineness number.
In molding applications where high thermal conductivity, heat resistance, dimensional stability, and casting surface finish are critical, CastTherm Sand is the recommended solution. These chromite sand distributions support the production of castings with various alloy applications because they act as a "chill" (also known as thermal durability.) The resulting screen distribution of the chromite sand influences many foundry applications, including the casting surface appearance, binder level requirements, and overall performance.
Where Innovation and Value Meets Application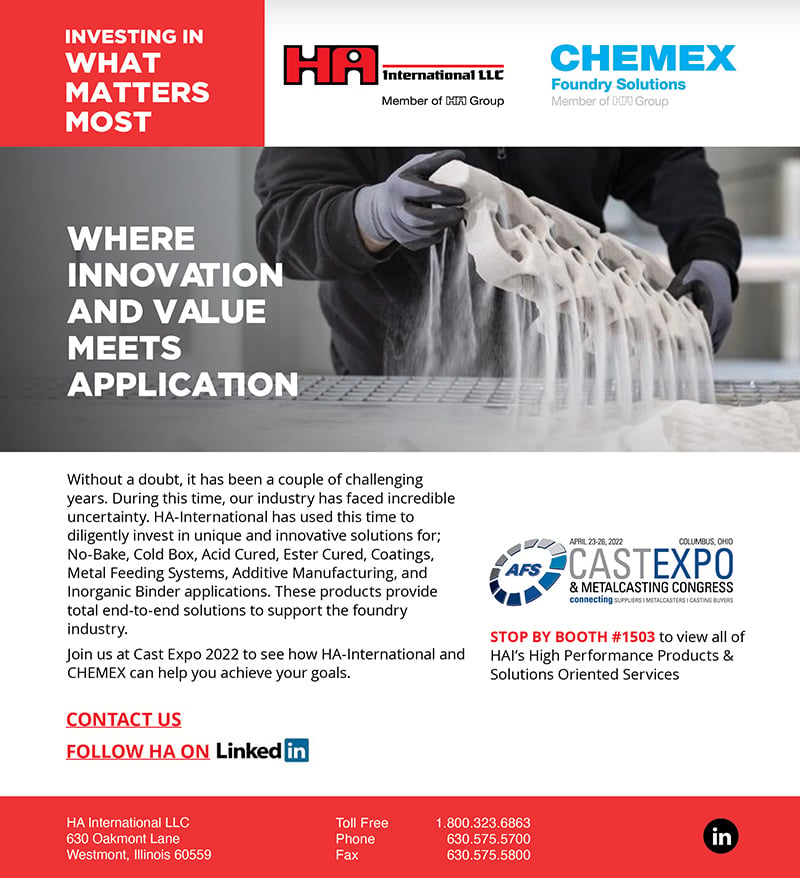 Without a doubt, it has been a couple of challenging years. During this time, our industry has faced incredible uncertainty. HA-International has used this time to diligently invest in unique and innovative solutions for; No-Bake, Cold Box, Acid Cured, Ester Cured, Coatings, Metal Feeding Systems, Additive Manufacturing, and Inorganic Binder applications. These products provide total end-to-end solutions to support the foundry industry.
CastTherm® CR Chromite Improves molding and casting properties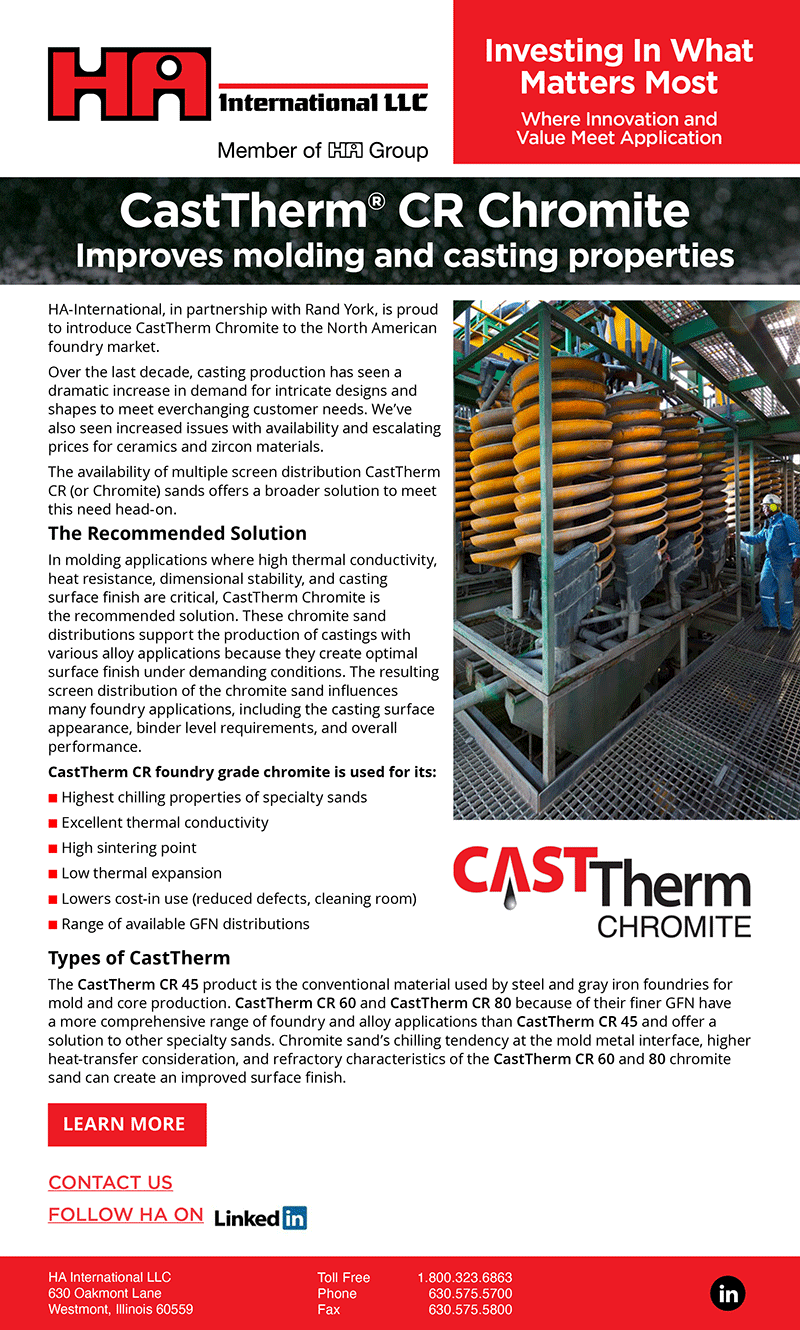 HA-International, in partnership with Rand York, is proud to introduce CastTherm Chromite to the North American foundry market.
Over the last decade, casting production has seen a dramatic increase in demand for intricate designs and shapes to meet everchanging customer needs. We've also seen increased issues with availability and escalating prices for ceramics and zircon materials.
The availability of multiple screen distribution CastTherm CR (or Chromite) sands offers a broader solution to meet this need head-on.
The Recommended Solution
In molding applications where high thermal conductivity, heat resistance, dimensional stability, and casting surface finish are critical, CastTherm Chromite is the recommended solution. These chromite sand distributions support the production of castings with various alloy applications because they create optimal surface finish under demanding conditions. The resulting screen distribution of the chromite sand influences many foundry applications, including the casting surface appearance, binder level requirements, and overall performance.
CastTherm CR foundry grade chromite is used for its:
Highest chilling properties of specialty sands
Excellent thermal conductivity
High sintering point
Low thermal expansion
Lowers cost-in use (reduced defects, cleaning room)
Range of available GFN distributions
Types of CastTherm
The CastTherm CR 45 product is the conventional material used by steel and gray iron foundries for mold and core production. CastTherm CR 60 and CastTherm CR 80 because of their finer GFN have a more comprehensive range of foundry and alloy applications than CastTherm CR 45 and offer a solution to other specialty sands. Chromite sand's chilling tendency at the mold metal interface, higher heat-transfer consideration, and refractory characteristics of the CastTherm CR 60 and 80 chromite sand can create an improved surface finish.
HA International Is Proud To Present: A Domestic Alternative to High Cost Furan Resins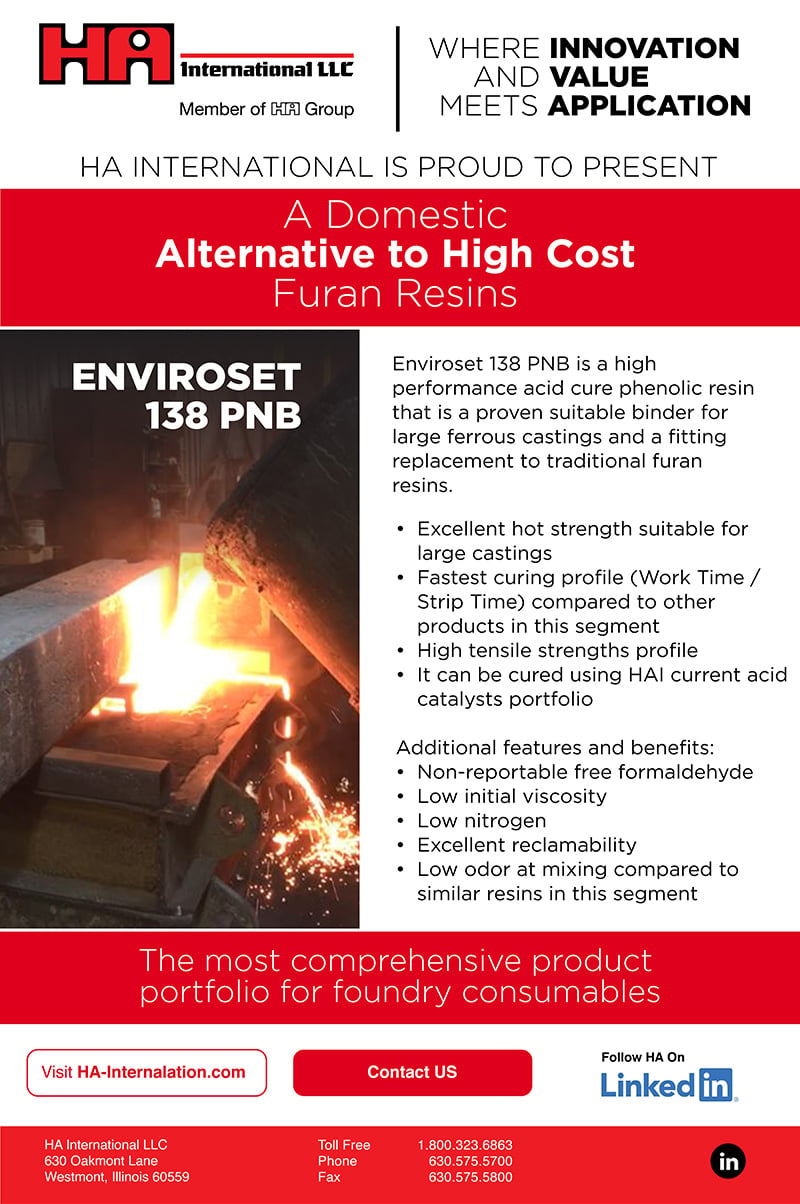 ENVIROSET 138 PNB
Enviroset 138 PNB is a high performance acid cure phenolic resin that is a proven suitable binder for large ferrous castings and a fitting replacement to traditional furan resins.
Excellent hot strength suitable for large castings
Fastest curing profile (Work Time / Strip Time) compared to other products in this segment
High tensile strengths profile
It can be cured using HAI current acid catalysts portfolio
Additional features and benefits:
Non-reportable free formaldehyde
Low initial viscosity
Low nitrogen
Excellent reclamability
Low odor at mixing compared to similar resins in this segment