Bioset
Reduced Smoke - Reduced Odor
Bioset T8000 / Bioset T8500
As HAI's original low smoke and order PUNB resin system, Bioset T8000/T8500 is designed to improve the foundry environment.
Bioset T8000/T8500 binder system contains very low levels of HAPs and contains no reportable formaldehyde.
Apart from our Ecomission Platform, Bioset T8000/T8500 has been formulized to reduce odor, pollutants, and smoke emissions by using a blend of methyl ester vegetable oils as well as a silica-based solvent.
This system provides high tensile strengths and superior hot strengths when used in Ferrous Applications as compared to a conventional system.
For more information on Bioset T8000/T8500, please see our Bioset T Technical Presentation.
Bioset opTa80 / Bioset opTa85
As HAI's new and second generation of the Bioset T family of products, the Bioset opTa80 and Bioset opTa85 resin packages will continue to move HAI and the foundry market toward a green future.
The Bioset opTa80/opTa85 package was designed to have similar smoke and odor reductions as compared to the original Bioset T system with great economic value.
A reformulation of our current formula, Bioset opTa80/85, will also provide similar tensile and hot strength compared to Bioset T8000/T8500.
For more information on Bioset opTa80/opTa85, please see our Bioset opTa Presentation
Reduced Smoke and Odor Comparison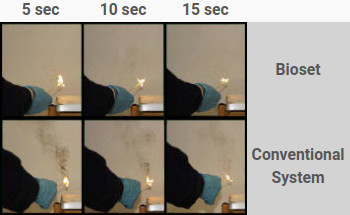 Technical Assistance
HAI can help you optimize your operation, improve your performance, and help you choose components to meet all your core-making needs. HAI will help you choose the right Part 1 to Part 2 ratios for your operation. Contact us today and let one of our experienced employees help you find the best binder to achieve your goals.


---