Sigmacure
The most versatile PUCB binder system in the market HAI's Sigmacure products owes its position as the leading core production process due to its versatility, efficiency, and cost-effectiveness. Sigmacure offers a wide selection of part ones and part twos resins to meet all production requirements and specifications.
Proven results
The highest levels of casting quality

Highly complex castings, such as thin wall thickness

Ideal for highly automated production

Can be used with many alloys
To learn more, view our Sigmacure Technical Data Sheets.
High productivity, fast cycle times

Good processability and good bench life of the sand mixture even when a suboptimal substrate is used

Excellent dimensional accuracy

Moisture-resistant, even under difficult ambient conditions
Flexible/customizable system for special requirements

Suitable with a large variety of equipment

High process safety

Lowest cost use

Low-risk system / higher degree of safety
New – Sigmacure 138/238
Engineered to deliver the best bench life properties, especially when adverse ambient conditions exist, and hot sand is prevalent.
Excellent performance when hot sand, hot ambient conditions, as well as relative high humidity are an issue

Engineered mainly for Fe applications

Best bench life performance

Good hot strength
Sigmacure 127 / 217
High-performance PUCB binder

High out-of-the-box tensile strengths

Excellent choice for tight dimensional tolerance castings

Helps to minimize shrinkage defects associated with PUCB systems

The first option for high-value, high-production aluminum applications

An excellent option for the SPM process

Low condensables

Reliable bench life performance

Performs with both ferrous and non ferrous alloys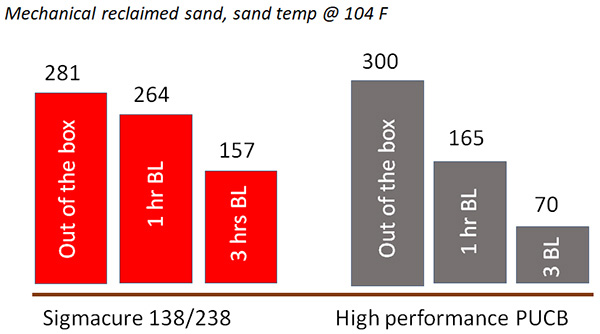 Sigmacure 135 P1
Sigmacure 235 P2
Sigmacure 210MOD P2
Our family of cold box systems is designed to:
Increase core-making productivity

Fastest cycle-to-cycle

Fast curing speed

Outstanding wipe-off properties
Reduce downtime at core-making

Avoid dumping unnecessary sand from hoppers

Exceptional release properties




SC135/210MOD (better)


SC135/235 (best)



Improve hot strength for Fe applications (*SC 210MOD)

High out-of-the-box strengths (*When Hybrid systems are used)

Excellent bench life compare to other standard systems
Technical Assistance
HAI can help you optimize your operation, improve your performance, and help you choose components to meet all your core-making needs. HAI will help you choose the right Part 1 to Part 2 ratios for your operation. Contact us today and let one of our experienced employees help you find the best binder to achieve your goals.


---