Enviroset® 3D Jet Resin
Reduced Odor - Low VOC - Lower HAPs
Enviroset 3D Jet Resin is a low viscosity thermosetting furan resin that has been specially manufactured for use in all 3D Printers for sand cores and molds and is suitable for use with all types of metal. This furan resin offers a number of features and benefits that set it apart from conventional furan resins on the market:


Features
Contains no nitrogen
Low water
Non-reportable formaldehyde and phenol
Low viscosity
High tensile strength
Benefits
Increased productivity – resin helps print heads to last longer

Reduced labor – printed molds and cores are cleaned faster

Reduced costs – resin is very economical
Enviroset 3D Jet Resin brochure
Description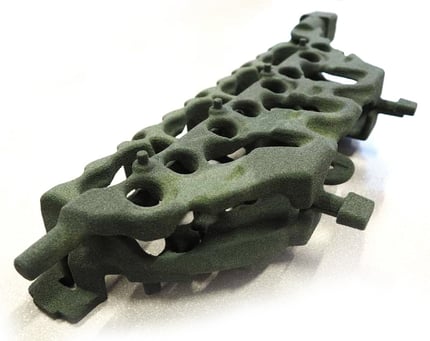 Enviroset 3D Jet Resin is a thermosetting furan resin that will react in the presence of a strong acid catalyst at ambient temperatures to form a cured binder. The low viscosity resin has been specially manufactured for use in all sand core and mold 3D printers. This resin can be used to make castings with all types of metals.

Typically the amount of Enviroset 3D Jet Resin applied to the sand/substrate will range between 1.0% and 1.5% resin, based on the weight of the sand. In 3D sand printing, the amount of resin is also determined by the X resolution chosen. The quantity of acid used in the sand mix is dependent upon the type and strength of the acid, but normally ranges between 0.14% - 0.24% based on sand weight. It is determined based on sand as it is pre-coated on the substrate first. Recommended acid catalysts (activator) for pre-treating the printing substrate are TW-40 for highest strength and TC-50 for fastest part cleaning and highest resolution.

Recommended practice when using Enviroset 3D Jet Resin is to start with a clean, washed and dried silica sand or aggregate. The acid should be the first added and thoroughly mixed with the sand or aggregate. The resin is then injected through the print head onto the sand/substrate after the sand has been layered by the recoater. Caution should be exercised to prevent the liquid resin and acid components from coming into the direct contact with one another since the resulting reaction can be very exothermic.
Understanding 3D Sand Printers and Binder Technologies
AM for cores and molds is gaining popularity because of the flexibility and complexity it offers in production, but productivity is critical to the long-term prospects

Additive manufacturing of sand cores and molds has attracted the attention of many foundries in recent years due to the process' unique ability to form core shapes that cannot be manufactured using conventional coremaking techniques. It does this by a process called "binder jetting": a reactive resin, most commonly, a furfuryl alcohol-based (FA) binder formulated for the application is deposited on a substrate. Typically, the substrate is a silica sand that has been pretreated with an acid catalyst, but it can be a number of other aggregates used in metalcasting, such as zircon and synthetic ceramics.

Learn More
Typical Physical Properties
Viscosity @ 25ºC, cps <10
% Water <1.0
% Nitrogen 0
% Free Formaldehyde 0
% Furfuryl Alcohol 92
Density, pounds per gallon 9.34
Performance Characteristics
Measurable tensile strength begins to develop shortly after the Enviroset 3D Jet Resin is jetted onto the sand mix containing the acid. The rate of strength development is related to the chemistry of the resin and the catalyst used. Tensile strength will vary due to the many factors known to affect binder performance: sand quality, sand temperature, mixing efficiency, etc. also, part orientation in the printer will affect strength properties.
Technical Assistance
HAI can help you optimize your operation, improve your performance, and help you chose components to meet all your core making needs. HAI will help you choose the right Part binder level and catalyst ratios for your operation. Contact us today and let one of our experienced employees help you find the best binder to achieve your goals.
---

For additional product information, contact Kelley Kerns at Kelley.kerns@ha-group.com.