Refractory Coatings
Improved Casting Quality - Reduced Cleaning Costs
Refractory Coating Products
HA-International provides a complete range of refractory coatings to meet all of your foundry needs. Refractory coatings are used on molds and cores to enhance the surface finish of the casting and reduce casting defects that occur at the sand-metal interface.
Browse Our Refractory Coating Products
Poly-Shield
Explicitly designed for the Lost Foam process. The product offering handles various jobs in both aluminum and iron. The coating binds very well to the foam and provides a solid layer of protection once dry. The coating rheology allows for easy dip application with excellent and even coverage to eliminate metal penetration and casting defects.
Centrikoat
Centrikoat is HAI's water-based product offered for centrifugal operations. This offering can handle an array of alloys like iron, steel, stainless steel, and yellow metals. HAI's latest addition to this offering is the Centrikoat 9363. This coating is specifically designed to target a super smooth finish on pipes.
Jetkote
HAI's newest product line, Jetkote, is designed for use with additive manufacturing in aluminum, iron, and steel applications. These products help not only in reducing casting defects, but also help in achieving a super smooth casting finish.
Specialty
HAI also has a great lineup of specialty coating that can bridge the gap to flawless castings. These specialty products include chill coatings that promote a chilling effect to control metal hardness and top and penetrative coatings that can target casting defects localized to a single area. There are many more products that we offer, so please get in touch with us for more details.
How Coatings Are Made
View our Refractory Coatings Video about the Six Sigma improvements HAI has made in the manufacturing of Refractory Coatings to maintain our leadership position in the foundry industry.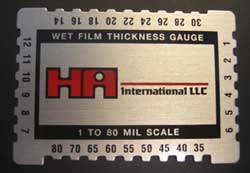 Learn about Refractory Coatings
A good refractory coating can bring significant value to your operation through improved surface finish or reduced cleaning costs. Refractory coatings are a complex mixture of ingredients in which each plays a part in the final product's application characteristics, stability, surface finish, resistance to cast defects, and cost. Be sure to contact your HAI sales representative to determine which coating best fits your foundry's needs.

To learn more about refractory coatings, download our complete Refractory Coating Overview.
---
For additional product information, contact Daniel Cygal at Daniel.cygal@ha-group.com.