Sigma Cat Amine Catalysts
HAI's amine catalyst product line, Sigma Cat, is designed for use with our entire line of phenolic urethane cold box resins. Our Sigma Cat products utilize TEA (triethylamine), DMEA (dimethylethylamine), DMIPA (dimethylisopropylamine) and DMPA (dimethylpropylamine) in the vapor form as catalysts in this process.
Performance Characteristics
Sigma Cat 2185
(TEA)
Sigma Cat 2190
(DMIPA)
Sigma Cat 2198
(DMPA)
Sigma Cat 2195
(DMEA)
Standard Cure Rate
Faster Cure
Faster Cure
Fastest Cure
Low Odor
Lowest Odor
Low Odor

Better Cure of
Low Permeability Cores
Amine Reclamation
HA-International offers our customers an environmentally conscientious alternative to scrubber solution waste disposal.
With HAI's HARP Amine Reclamation Program, Amine is recovered to virgin specifications using the latest innovations in process technology.
Amine recovery supports HA-International's EcoMission strategy of sustainability, by minimizing the environmental impact of our products.
For information please view our HARP Amine Reclamation Program page.
Return of Empty Cylinders
Empty Sigma Cat cylinders can be returned to the location listed below.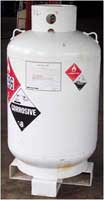 Customers are responsible for the return freight of the empty cylinders.
HA-International, LLC
4243 South Ave
Toledo, OH 43615
Technical Assistance
Proper selection of a binder system that meets your specific needs is key to achieving maximum performance benefits. HAI provides in-depth technical assistance and a wide range of urethane cold box binder systems.
Both our in-house and field experts are available to assist you in your most challenging foundry applications. Contact us today so that we may assist you in putting together a binder system that will help you achieve your goals.